Grüne Wiesen, steile Klippen und Schafe wohin man schaut. So kennt man Irland und so präsentiert es sich auch, sobald man an in die Nähe der Westküste kommt. Natürlich dürfen auch Pubs nicht fehlen, die findet man in jedem noch so kleinen Dorf – niemand sollte in Irland verdursten müssen.
Came Back for the Landscapes
Anfang Mai waren wir zum zweiten Mal auf der grünen Insel unterwegs. Diesmal nicht nur in und um Dublin, sondern die komplette Westküste war unser Ziel (ein viel zu großes Ziel für 11 Tage, wie wir feststellen sollten – aber dazu bald mehr). Dabei gehts mir natürlich immer darum möglichst viele Sonnenauf- und untergänge fotografisch verwertbar zu nutzen 😉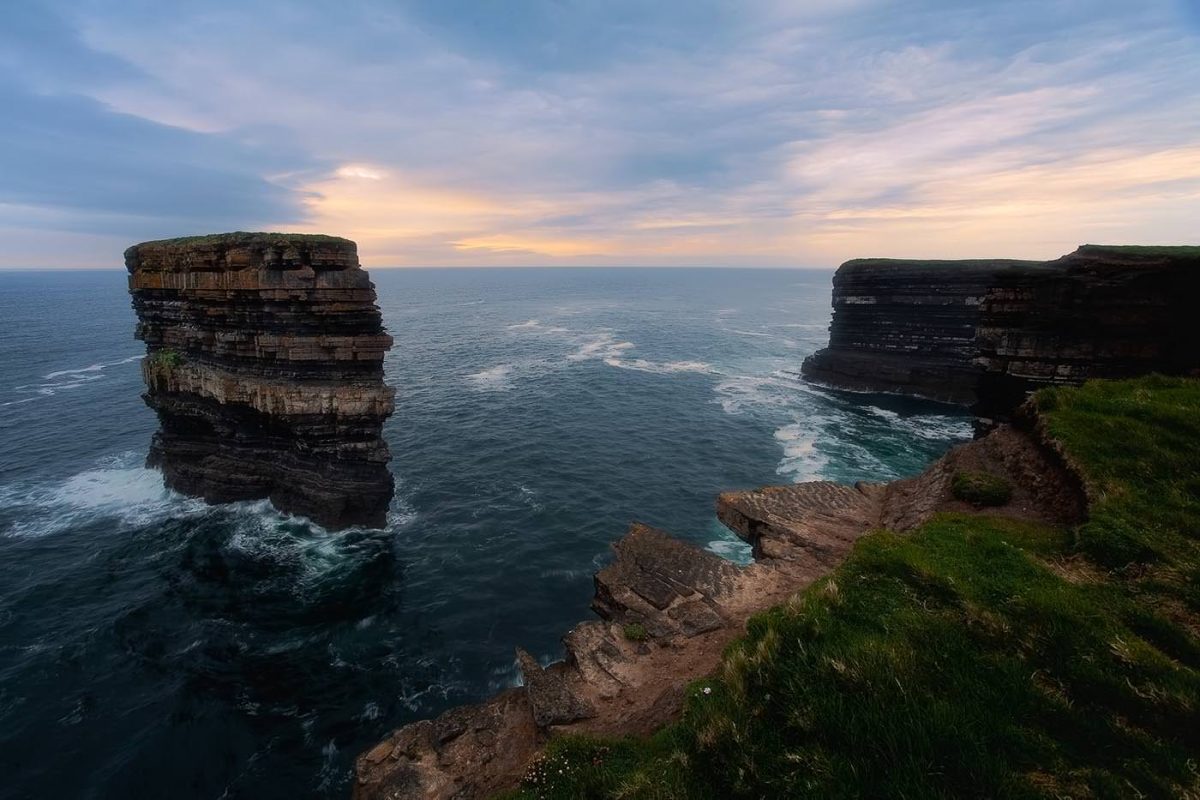 Heißt ich möchte einen Haufen cooler Fotos mit nach Hause bringen. Und da wären wir bei einem Punkt, der mir bei unserer Reise ziemlich negativ aufgefallen ist. Nicht, dass es in Irland nichts zu fotografieren gäbe, aber an diese guten Aussichtspunkte zu kommen gestaltet sich zum Teil echt schwierig.
Stacheldrahtzaun. Überall.
Ich rede nicht von zu langen oder zu hügeligen Wanderungen. Die gehören dazu. Viel mehr haben wir nie wirklich gewusst, wann es erlaubt ist, bestimmte Wege und Grundstücke zu betreten. Alles ist mit Stacheldrahtzaun umringt und abgesichert.
Ist das ein privates Grundstück? Darf ich – trotzdem – durch das Tor oder über den Zaun oder möchte der Grundstücksbesitzer fremde Menschen und Touristen draußen halten (deswegen auch der Zaun?)? Verfolgt uns jemand mit einer Shotgun, wenn wir trotzdem durchgehen? 
Ein Problem, auf das auch der werte Kollege Brandon van Son schon in Irland gestoßen ist, wie er in diesem Video hier erzählt 😉
Wie wir festgestellt haben ist Irland nicht nur das Land der grünen Weiden sondern auch das Land des Stacheldrahtzauns. Der wirkt nicht besonders einladend, wie du vielleicht selbst weißt und daher wussten wir oft nicht, ob wir den Weg zu unserem Ziel nun fortsetzen dürfen oder nicht. Oder selbst wenn es nicht verboten wäre, ob wir einfach jemanden nerven, indem wir über sein Land laufen, obwohl er es mit seinem Zaun zu verhindern versucht hat. Wir für unseren Teil wollen in anderen Ländern "gute Gäste" sein.
Einmal wurde uns von unserem Host erzählt, dass es eine tolle Aussicht gäbe aber "[someone] bought the land and blocked it all off :(". Sehr schade. Ein anderes mal sind wir einer Wegbeschreibung aus dem Internet gefolgt um zu einem sehr sehr vielversprechenden Sonnenuntergang festzustellen, dass auch zum Crohy Head Sea Arch nur ein abgezäunter Pfad führt. Bei dem ist auch nicht wirklich klar, wie legal man sich verhält, wenn man einfach über den Zaun oder das mit Stacheldraht umwickelte Tor geht.
Ist Irland also keine (Foto-)Reise wert?
Irland ist auf jeden Fall eine Reise wert! Dieser Blog soll auf keinen Fall den Eindruck vermitteln, dass Irland kein schönes Land sei oder keine guten Fotolocations zu bieten hätte. Vielleicht wars auch einfach nur deutsche Verklemmtheit, die uns da zum Zweifeln gebracht hat und alles wäre halb so wild gewesen.
Fazit
Wenn du mit dem Gedanken spielst, als Fotograf nach Irland zu reisen, informiere dich einfach vorher gut über die Ziele, die du ansteuern möchtest. Am besten bei den Anwohnern. Frage nach, ob und wie am besten, man zu den Orten kommt. Eine Sache, die wir leider zu wenig getan haben.
Eine weitere Möglichkeit sind Facebook-Gruppen, mit aktiven Mitgliedern. Dort bekommt man zum Teil wahnsinnig hilfreiche Tipps und das mit etwas Glück fast in Echtzeit. Die Gruppe, der wir vor unserer Reise beigetreten sind hat wirklich sehr aktive und antwortfreudige Mitglieder!
Wie sind euere Erfahrungen damit in Irland? Wie habt ihr das in anderen Ländern erlebt? Schreibts gerne in die Kommentare!
Das war ein Hinweis, keine Warnung 😛 Over and out.
Frank